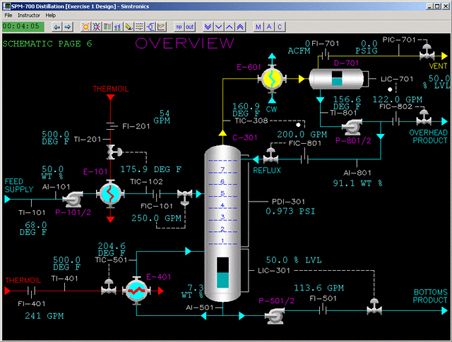 The SCHEMATIC displays are the Process Flow and Instrumentation Diagrams for the particular process being simulated. "Clicking" on an item on Schematic Page 1 (Schematic Menu) will bring you directly to the appropriate Schematic Page. These displays have the following features:
dynamic digital readings for controllers and indicators
graphical indication of switch states for pumps, valves, etc.
dynamic graphical flows and levels for tanks
These displays also allow the user the capability to control from the schematics (change setpoints, outputs, controller modes, and switch states). In order to manipulate an instrument you must first select it. To do this "click" on a switch state or a digital indication. This action pop-ups an Instrument Keypad and Faceplate.