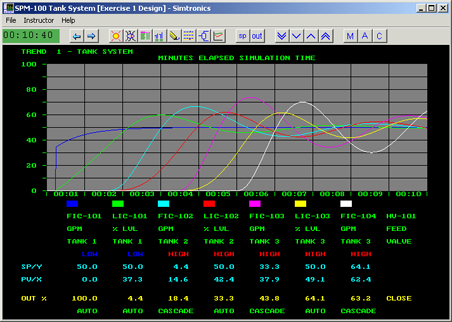 The TREND displays can show trends for up to eight instruments at a time. Trends are drawn for indicators and controllers. This historical data is archived to disk for all controllers and indicators in the simulation and can be easily recalled. Trend Pens are toggled on and off by "clicking" on the small rectangular box above each instrument faceplate. "Clicking" with the left mouse button in the graph window, allows you to view historical data, while "clicking" with the right mouse button advances the trend forward in time. The Instructor can easily change the Trend Sampling Rates, Trend Scales, and Trend Resolutions.
Setpoints, Outputs, Controller Modes, and Switch States can be changed through keyboard entry or with the mouse. Loops can be selected and alarms can be acknowledged with the keyboard or simply by "clicking" on a faceplate with the mouse. Setpoints and Outputs can be ramped with the keyboard or with the mouse.
TREND displays have the same functionality as the GROUP displays except that the graphical portion of the GROUP display is replaced with a graph.