Simtec Training Exercise Consortium

Simtec is a library of fully documented, pre-built training exercises designed to save time and resources for our clients. Each exercise comes complete with learning objective, instructions, trainee discussion topics, fault parameters and expert solutions.
Clients may purchase packages of varying sizes, and have the ability to custom select the included exercises.
Exercises are rated based on skill level, with the 5 categories listed below.
Beginner – Easy exercises appropriate for vocational process technology students, industrial new hires, or those new to simulator use.
Skill Builder – Simple exercises that teach and reinforce basic skills of board operation.
Competent – Exercises intended to reinforce skills required of trained board operators.
Advanced – Exercises of sufficient complexity to be challenging to experienced board operators. These exercises draw on skills not only of console operation, but also process leadership and crew management.
Expert – Advanced exercises intended to challenge highly skilled, experienced practitioners and engineers. These exercises are appropriate for building team troubleshooting or abnormal situation management skills.

---
Training Workbooks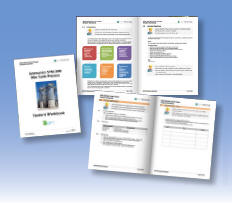 These workbooks use the P3OPT™ methodology, which is a layered approach that combines hands-on exercises with application of knowledge and theory to ensure competency achievement. Learning is divided into modules, so you have the flexibility to tailor your program and integrate simulation into your existing operator training. Each module relies on concepts mastered in the previous modules, while presenting new knowledge and skills.
Imbedded in the materials are opportunities to reinforce technical and functional competencies such as information management, critical thinking, use of log books, effective rounds, and reading drawings. Where possible, the methodology allows operators to see the linkage between the simulation model and the work they do every day.

P3OPT™ helps you to make implementing simulation training quick and easy because the structure and exercises have all been developed for you. P3OPT™ workbooks can be used in the classroom, lab or self-paced.

---
Virtual Training Environment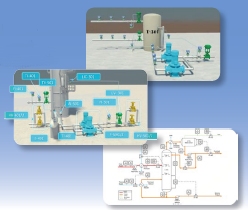 VTE provides learners with the ability to better visualize the simulation models by interacting with a library of movies, 3D visualizations, diagrams, and DCS screens.
For the operator, the ability to troubleshoot the process relies on understanding the flow and control of the unit. The 3D visualizations and movies allow the operator to better understand the process by seeing the configuration of equipment and instrumentation. Piping and Instrumentation Diagrams and DCS screens are representations of the unit that communicate important information to the operator.
The Virtual Training Environment allows you to teach and reinforce the ability to read and interpret process information and improve the level of process knowledge and trouble-shooting skills.