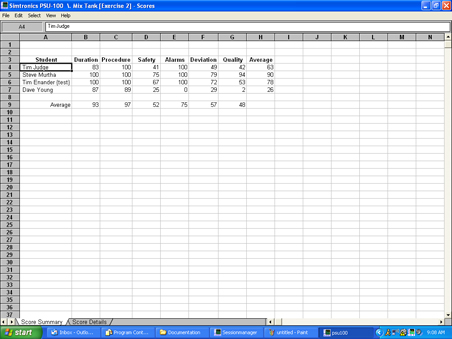 Copyright © 1996 - 2013 by Simtronics Corporation. All rights reserved worldwide.

The PSU-100 is a set of Performance Scoring Utilities to help the instructor evaluate trainee performance and progress. The primary objective of the PSU-100 is to provide documented training results to help meet requirements of ISO 9000, API RP-750, and in particular OSHA 1910.119. But the PSU-100 does much more. It also teaches individual trainees how to improve their performance by creating side-by-side comparisons of their event logs to performance standards event logs, allowing trainees to see exactly where they deviated from the standard operating procedures.
The PSU-100:
Documents your training
Provides reports for OSHA 1910.119 requirements
Allows for self-paced instruction
Delivers proven methodology for operator certification
Stimulates competitive spirit
Provides targets for operators
Provides recognition for achievement of quantitative goals
Archives all operator data
Provides extensive data reporting for instructors

---
Performance Standards
Performance Standards are integral to analyzing operator performance. The SPM Series have pre-recorded performance standards, or the instructor can record a new Performance Standard. To determine a trainee's score, their performance is compared to the selected Performance Standard.

---
Performance Analysis
The Simtronics PSU-100 analyzes the collected data for a trainee and/or a group of trainees. An analysis is performed on the data as compared to the performance standard. Scores are generated for the trainee for the following:
Time to Complete Training Exercise
Adherence to Standard Operating Procedure
Safety
Alarms
Deviation from Design Conditions
Product Quality
There is a set of data for each Initial Condition of each Process Model. There may be 40 Initial Conditions for Distillation. Each Initial Condition is an exercise; for example: design conditions with feed pump failure, cold start conditions with steam failure, intermediate conditions with upstream composition changes, etc. The DSS-100 automatically records and time-stamps every procedural move made by the trainee. This includes all trends and events, such as changing setpoints, acknowledging alarms, and tuning an instrument. The PSU-100 then analyzes this data and assigns an objective score based on the exercise's Performance Standard. This data is extensive, but simple and measurable.

---
System Advantages
Selection criteria allows you to view simulation runs based on the Standared Process Model (SPM) run, the SPM's exercise number, date of simulation run, and/or the trainee's assigned class.
Create your own exercises and corresponding Performance Standards, which allows you to control the standard operating procedures and the scoring criteria for your trainees.
Five reports are available - Score Summary, Score Detail, Trend Comparison, Event Comparison, and Notes. Any of these reports can be displayed or printed.
Report data can be copied to an external program such as a spreadsheet, Training Records Management System (TRMS), or Learning Management System (LMS) using familiar editing commands.
Compare the scores of several trainees or an entire class using the Score Summary report. or you can track an individual's progress as the same exercise is run several times. In one concise report, view multiple simulation runs and their scores on a 0 - 100% scale.